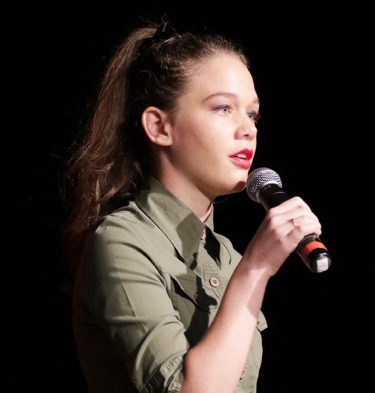 Biography
Summer is in Year 12 at Our Lady of Mercy College (OLMC) Parramatta. Summer loves singing and performs regularly outside school in the community, in school performances, singing eisteddfods and has won various awards. Summer plays piano and is an accomplished Para Track & Field athlete with national and international competition experience. Summers sporting achievements include multiple national titles and winning gold for Australia at the Oceania Athletics Championships in 2019.  In 2018 Summer travelled to Sant Cugat Spain, and competed at the CPRISA World Games where she broke the world record in Long Jump for her Cerebral Palsy classification. Summer is the current Australian record holder for the 400M and 1500m for T35 classification.
Summer has sung at many events over the last few years from weddings to charity and community events and fundraisers. She also does motivational speaking telling her story as an athlete and singer and how it helps overcome her conditions of Cerebral Palsy and being legally blind from a young age.
Summer is a very capable young lady that has demonstrated she does not need to be limited by disability. She will set her sights on something she wants to do, identify any barriers, and then she will find strategies and tools to navigate around the barriers. When she is pointed in the right direction, she is the one that intrinsically has the ambition, resilience, and determination to achieve anything she puts her mind to.
PERFORMANCE EXPERIENCE:
Vision Australia Variety Night Fundraiser – Featured Vocalist -2021
Gut Foundation Fundraiser – Hunters Hill Club – Solo vocal performance - 2021
Hunters Hill Rotary Christmas Function – Solo Performer- 2020
Inclusion in Action video Featured Athlete – Inclusive Sport Design - 2020
Wizard of Oz ensemble – OLMC Musical - 2019
Annie - Orphan Ensemble – Holroyd Musical Society 2018
Ryde Christmas Carols - Dec17
Riot a Cabaret - Rascals Musical Society - Oct17
Night Of Australia and China - Mercy Chorale - Sydney Opera House - Aug17
OLMC Variety Night - Solo vocal performance July 17
Suessical Jnr - Birdgirl - Rascals Musical Society Apr17
Ryde Christmas Carols - Dec16
Beauty and The Beast - Ensemble - Sydney Youth Musical Theatre Nov16
Shrek Jnr - Storyteller and Duloc citizen - Rascals Musical Society Oct16
High School Musical Jnr - Drama student and Ensemble - Rascals Musical Society Apr 16
Ryde Christmas Carols - Dec15
Aristocats - Ensemble - Meriden Junior school musical production 2014
Pinafore Pirates - Ensemble - Meriden Junior school musical production 2012
LA Talent showcase - 2011, 2012, 2013, 2014
One Night Only - The Performance Studio annual concert - 2010 and 2011