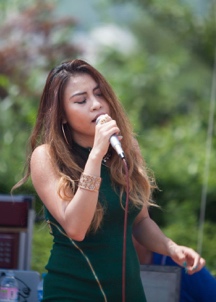 Biography
Mary Ann Van der Horst's love of music can be traced in her early years when she was just 6 years old and scored her first musical performance way back in the Philippines. At such a young age, Mary Ann showed high confidence on stage which could also be attributed to her supportive family and friends who have been unceasingly encouraging her to sing in front of the people.
Mary Ann may have been into numerous musical events but the most remarkable of them all as she remembers was her fun stint on the X Factor Australia in which she sang Halo by Beyoncé. Mary Ann elicited unexpected reaction from the judges as the four could not help but gave her a standing ovation for the stunning voice that did not falter which has had more than 21 million views.
Mary Ann released a single on iTunes called Paradise and Deep Down by Anirban. Mary Ann was then with the Alpha Music record label and AGS management where she released 4 songs. She has since recently started representation with Melbourne's Platinum Cre8ive.
Mary Ann has been providing corporate, charity and community entertainment for many years now and perfect for your next special occasion or event.