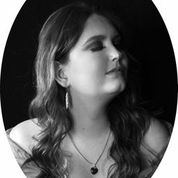 Biography
Soprano Kirsten Busby completed Her Bachelor of Music and Diploma of Language (German) at the University of Newcastle in 2021.
She studies voice technique in Sydney with mezzo-soprano Deborah Humble, and recently began taking Italian lessons. In 2021 she competed in the Tamworth and Dubbo Eisteddfods winning numerous prizes.
Kirsten has made solo appearances at the Opera Australia Emerging Artists Concert, at the Young Champions Concert with the Lake Macquarie Music Society for the White Stick Festival, part of the
celebrations for White Cane Day, and at the Step into The Limelight; Inspire Concert in the ACT, where she was awarded the 23rd Canberra Area Theatre Award for Best Variety Performance.
Near her home base in Maitland, Kirsten has performed with Newcastle based group Ecology, the Newcastle Cathedral Choir, Hunter Disability Expo. and the Maitland Musical Society. She has sung with Dramatic Productions in Canberra, taking part in their production of Sweeney Todd, and has been a chorister with the Canberra Choral Society.
Kirsten has attended the Perth Choral Institute Camp, the National Youth Choir of Australia Camp as well as workshops and masterclasses at the SongCo LAB in Sydney. She is currently Cantor at Maitland Anglican Parish.
Born visually impaired in 1999, Kirsten is a committed teacher and chorister at the National Braille Music Camp; a music camp run every year in Mittagong and dedicated to blind and visually impaired students from Australia and New Zealand.
Kirsten travels and performs with her Guide Dog Violet