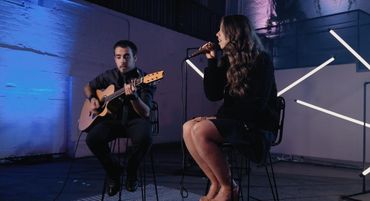 Biography
Brittany has become an integral part of the Melbourne music scene as a vocalist, performer, and as a professional DJ. She has curated a signature sound and developed into a strong pop artist with electronic influences. Performing as a singer and as a DJ has enabled Brittany to expand her network and learn to create a vibe for any kind of performance necessary to please and captivate her audience.
She has performed at events, and for brands such as: The Mother's Day Classic, NIKE, Pretendent's Cup 2019, Vogue Australia, David Jones, Victoria Racing Club, Crown Casino, The AFL, Variety Victoria, Beyond Blue, The MCG and the Herald Sun, Supercars, plus many more. She is an accomplished motivational speaker, radio and TV producer and presenter and MC. She is also one half of Sanctuary Acoustic Duo along with Daniel James Johnson (See Sanctuary Duo videos below)
Whilst Brittany has been performing and writing music for many years, in 2015 she released her debut EP 'Undefeated' which featured her signature powerful vocals, which saw her reach number 1 with ReverbNation charts with several songs from the EP. She has gone on to write and release 'NEED IT' and 'Adore' in both original and remix forms since. With on onset of COVID last year it has taken a huge dent in her performing opportunities, however, this has allowed her to work on new music which she is looking forward to releasing very soon.
Brittany is also a talented motivational speaker and certified personal trainer. As Brittany has suffered from ME / Chronic Fatigue Syndrome since the age of 16, she has used these skills to focus her passion and is a shining example of how she has turned her life around despite her constant potentially debilitating condition, (which she prefers not to mention and let her music and vocals do the talking).
Brittany is also a certified personal trainer, pilates instructor and makeup artist.